Auto Body Shop Insurance in Iowa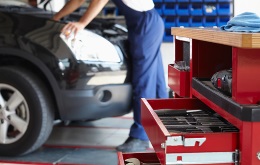 An auto body and repair shop is a rewarding business that allows you to interact with customers daily. Working with customers and the customer's property regularly can put your business at risk when problems arise. By setting up the appropriate types of auto body shop insurance - also known as garage insurance - you can take steps to minimize potential risks and problems along the way.
Types of auto body shop coverages include:
General and Umbrella Liability
Auto and Fleet Liability
Property/Cargo Insurance
Crime Insurance
Workers' Comp
Contact us to find out more about auto body and garage insurance in Buffalo Center and Bancroft, Iowa, including the Algona, Forest City, Lake Mills, Swea City, and Thompson areas.